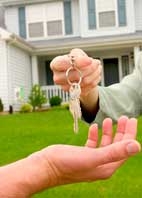 WHAT YOU NEED TO QUALIFY FOR A HOME LOAN
Buying a home for the first time can be exciting AND a little nerve-wracking. But if you have a good understanding of the process it can take alot of the stress out of the experience. One of the first and most important steps in the process is getting pre-approved for your mortgage loan. This helps you and your Realtor understand what price range to target before you even start viewing homes. There's nothing more disappointing than discovering too late that you can't afford the home that you've just fallen in love with! So talk to a lender first.
MINIMUM QUALIFICATIONS FOR A LOAN
2 years of current employment history
2 years of bank statements or tax returns
620 credit score or better
3.5% minimum down payment (FHA loans only)
I recommend checking with several lenders to compare rates and fees. Credit reporting laws have changed so you can now have multiple mortgage lender inquiries within a 30 day period without impacting your credit score. I also suggest working with someone who will meet with you personally and keep you and your Realtor informed about your loan process.

If you are considering a home purchase, call me direct at 469-450-1326. I work with a network of industry-leading mortgage professionals who can help you get on the path to home ownership today!